Steve Jobs, Apple co-founder, dies at 56
The mastermind behind an empire that has revolutionised personal computing, telephony and music, dies in California
Steve Jobs, billionaire co-founder of Apple and the mastermind behind an empire of products that revolutionised computing, telephony and the music industry, has died in California at the age of 56.
Jobs stepped down in August as chief executive of the company he helped set up in 1976, citing illness. He had been battling an unusual form of pancreatic cancer, and had received a liver transplant in 2009.
Jobs wrote in his letter of resignation: "I have always said if there ever came a day when I could no longer meet my duties and expectations as Apple's CEO, I would be the first to let you know. Unfortunately, that day has come."
Apple released a statement paying tribute: "Steve's brilliance, passion and energy were the source of countless innovations that enrich and improve all of our lives … The world is immeasurably better because of Steve."
Bill Gates, the former chief executive of Microsoft, said in a statement that he was "truly saddened to learn of Steve Jobs's death". He added: "The world rarely sees someone who has had the profound impact Steve has had, the effects of which will be felt for many generations to come.
"For those of us lucky enough to get to work with him, it's been an insanely great honour. I will miss Steve immensely."
He is survived by his wife, Laurene, and four children. In a statement his family said Jobs "died peacefully today surrounded by his family … We know many of you will mourn with us, and we ask that you respect our privacy during our time of grief".
Jobs was one of the pioneers of Silicon Valley and helped establish the region's claim as the global centre of technology. He founded Apple with his childhood friend Steve Wozniak, and the two marketed what was considered the world's first personal computer, the Apple II.
He was ousted in a bitter boardroom battle in 1985, a move that he later claimed was the best thing that could have happened to him. Jobs went on to buy Pixar, the company behind some of the biggest animated hits in cinema history including Toy Story, Cars and Finding Nemo.
He returned to Apple 11 years later when it was being written off by rivals. What followed was one of the most remarkable comebacks in business history.
Apple was briefly the most valuable company in the world earlier this year, knocking oil giant Exxon Mobil off the top spot. The company produces $65.2bn a year in revenue compared with $7.1bn in its business year ending September 1997.
Starting with his brightly coloured iMacs, Jobs went on to launch hit after hit transformed personal computing.
Then came the success of the iPod, which revolutionised the music industry, leading to a collapse in CD sales and making Jobs one of the most powerful voices in an industry he loved.
His firm was named in homage to the Beatles' record label, Apple. But the borrowing was permitted on the basis that the computing firm would stay out of music. After the success of the iPod the two Apples became engaged in a lengthy legal battle which finally ended last year when the Beatles allowed iTunes to start selling their back catalogue.
Jobs's remarkable capacity to spot what people wanted next came without the aid of market research or focus groups.
"For something this complicated, it's really hard to design products by focus groups," he once said. "A lot of times, people don't know what they want until you show it to them."
Jobs initially hid his illness but his startling weight loss started to unnerve his investors. He took a six-month medical leave of absence in 2009, during which he received a liver transplant, and another medical leave of absence in mid-January before stepping down as chief executive in August.
Jobs leaves an estimated $8.3bn, but he often dismissed others' interest in his wealth. "Being the richest man in the cemetery doesn't matter to me … Going to bed at night saying we've done something wonderful … that's what matters to me."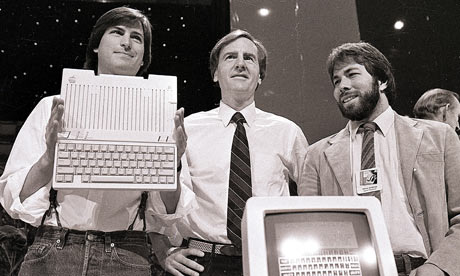 1955 Steve Jobs is born in San Francisco on 24 February 1955, and adopted by Paul and Clara Jobs of Mountain View, California.
1974 He takes a job at videogame company Atari Inc but resigns after a few months to travel to India.
1975 Jobs and his friend Steve Wozniak build a prototype computer in the garage of Jobs' parents.
1976 Jobs and Wozniak co-found Apple Computer to sell their machines, staring with the Apple I.
1977 The Apple II is launched. The first successful mass-market computer, it remains in production for 16 years.
1980 The company's second computer, the Apple III, is launched but proves a commercial failure, plagued by faulty construction.
1983 Apple launches the Lisa, the first personal computer controlled by on-screen icons activated at the click of a mouse. But it also proves unsuccessful.
1984 Apple launches the Macintosh computer, which wins rave reviews but suffers disappointing sales.
1985 Apple closes half its six factories, sheds 1,200 employees (a fifth of its staff) and declares its first quarterly loss. Jobs loses a boardroom battle against John Sculley and is forced out of the company.
1986 Jobs buys the computer graphics division of Lucasfilm Ltd, the company owned by Star Wars director George Lucas, and founds what would become Pixar Animation Studios.
1987 Macintosh II is launched in 1987.
1988 Jobs founds NeXT Computer, but it was not a financial success, selling only 50,000 computers.
1995 With Jobs as its chief executive, Pixar releases Toy Story, the first full-length computer animated film, which is a worldwide box office smash.
1996 Apple buys NeXT for $429m (£277m) and uses Jobs' technology to build the next generation of its own software.
1997 Jobs becomes Apple's interim chief executive.
1998 The iMac is launched, a self-contained computer and monitor. Its design eclipses the clunky build of Apple's competitors.
2001 The first iPod goes on sale in October and proves a huge success.
2003 The iTunes music store is launched in April.
2007 The first iPhone is launched. Jobs decides to drop the computer part of Apple's name.
2010 The iPad is launched in April and 3m of the devices are sold in 80 days. Nearly 15m iPads are sold worldwide by the end of the year. Apple's annual sales reach $65bn – a huge rise from $8bn in 2000.
2011 Apple continues to roll out new products to great demand including the iPad 2 and iPhone 4.